clubsandwich¶
A roguelike framework for Python 3 using BearLibTerminal
What is this?¶
Imagine you want to write a roguelike, you don't want to roll your own framework from scratch, and you want to use Python.
The most mature option for doing this is libtcod-cffi, which is a kitchen sink of roguelike development utilities like terminal graphics, pathfinding, random numbers, noise generators, config file parsers, and data structures. But it's pretty heavy, the docs aren't great, and it's an icky C API. And while it covers a lot of things you need for a roguelike, it doesn't help you much with your UI or state management.
If that sounds like a decent tradeoff, go try libtcod-cffi and be happy! But there's another library, BearLibTerminal, that only handles terminal graphics. It's tiny and understandable. Clubsandwich builds on BearLibTerminal (BLT…) to add a nice API, state management, easy UI, and some other helpful stuff.
Features¶
Scroll down for examples.
Event loop
Scene manager
Geometry data structures
Convenience functions
UIKit-like interface framework
Script runner to help you iterate quickly
Dependencies¶
Python 3.5+ (Probably works on 3.4, and on 3.3 if you install

asyncio

)
And BearLibTerminal, of course
Table of contents¶
The table of contents is organized in the recommended reading order.
Before you dive in, you should probably read the overview of BearLibTerminal on its web site.
Installation¶
This package is not yet on PyPI. It is under heavy development. But you can expect reasonable API stability!
pip

 

install

 

-

e

 \
  

'git://github.com/irskep/clubsandwich.git@master#egg=clubsandwich'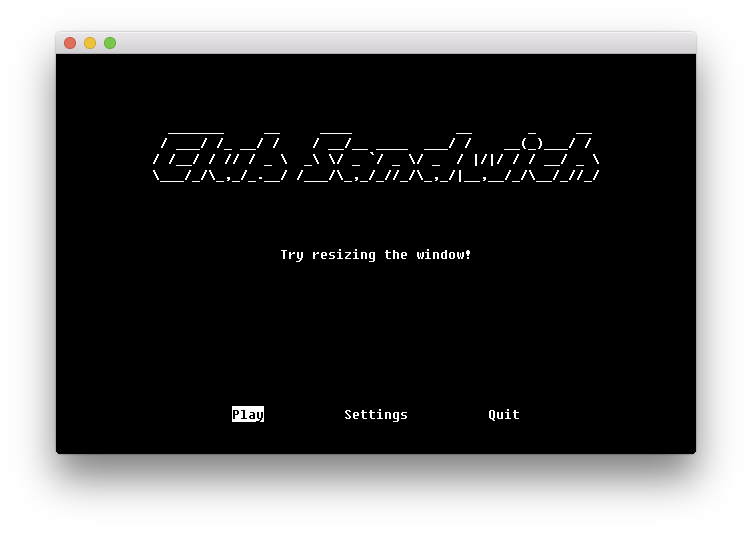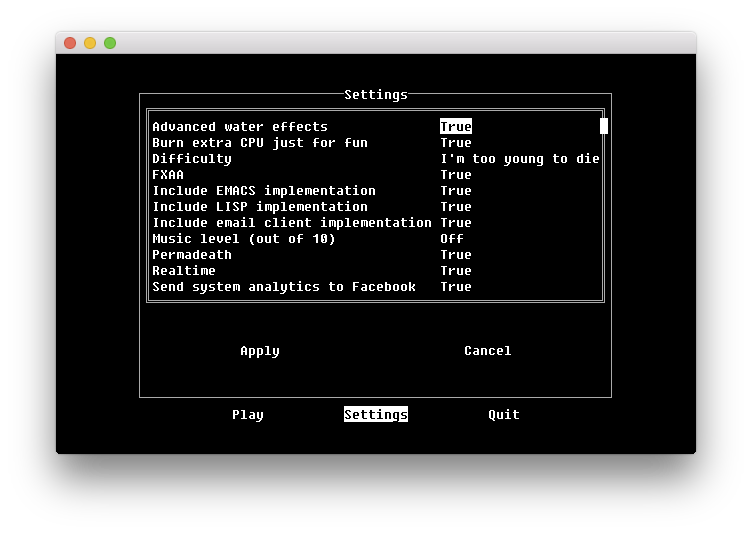 Developing¶
If you want to work on clubsandwich, it's really easy to do that while also developing your game.
First, fork clubsandwich on GitHub and clone it locally:
git

 

clone

 

git

:

//

github

.

com

/

YOURNAME

/

clubsandwich

.

git



Then install it with pip's --editable flag:
cd

 

clubsandwich




# assuming you are in a virtualenv! otherwise this will be




# global, which you don't want.




pip

 

install

 

--

editable

 

.



Now any changes you make to the clubsandwich source tree will be reflected in your $PYTHONPATH.